Solitaires are great games to train your patience and attention. Probably it's the reason why Microsoft added them to the older versions of Windows in the '90s. Solitaires continue to be very popular and the newer versions of Windows also include a variety of these games. One of the favorites of all times is FreeCell Windows XP.
They say that only a few deals of FreeCell are unsolvable. This makes one think FreeCell is pretty easy, but it can be challenging. At the beginning of the game examine the cards and try to plan your moves. This game doesn't have a time limit, so take your time. The more carefully you plan, the easier it will be to solve the game.
Start sorting cards on sequences on the tableau. Sort them in descending order of alternate colors. The goal of this game is to assemble foundations. Each of the four foundations starts with an Ace. You need to try and free Aces first.
When you are out of moves, use empty free cells. They are meant to store some of the cards when they block your game. Try to remove cards from free cells as soon as you can, because free cells allow you to move several cards at a time.
The rules say that you can only move cards one by one. But when there are empty free cells, it is possible to store part of the sequence in them. Normally, you would need to move a sequence card by card using the free cells. But you don't need to do it in such a complicated way. The game allows moving a stack of cards that is one card more than empty free cells. E.g., you can move three cards at once if only two of the free cells are empty.
For the times when you wish you could replay some of the moves, there's an infinite undo options. Use the button at the top of the screen or Ctrl+Z.
About
This game uses the Microsoft Windows Freecell machine and is therefore perfectly identical to the Freecell games found in the entertainment package of old PCs with Windows 95, 98 or XP.
As in the real game, there are 10 million different games and you can also choose a game number yourself by clicking on the number in the upper left corner and entering something. For this game, one mouse is enough. A tip: use CTRL + Z in case of error.
Developed by GameBoss. The game requires any modern browser to play like Internet Explorer 11, Microsoft Edge, Chrome or Firefox.
FAQ
What are the easiest FreeCell games?
So, the easiest FreeCell game is game 25904. Also easy to play games are 5152, 11987, 13464, 9998, 62090 and 1529.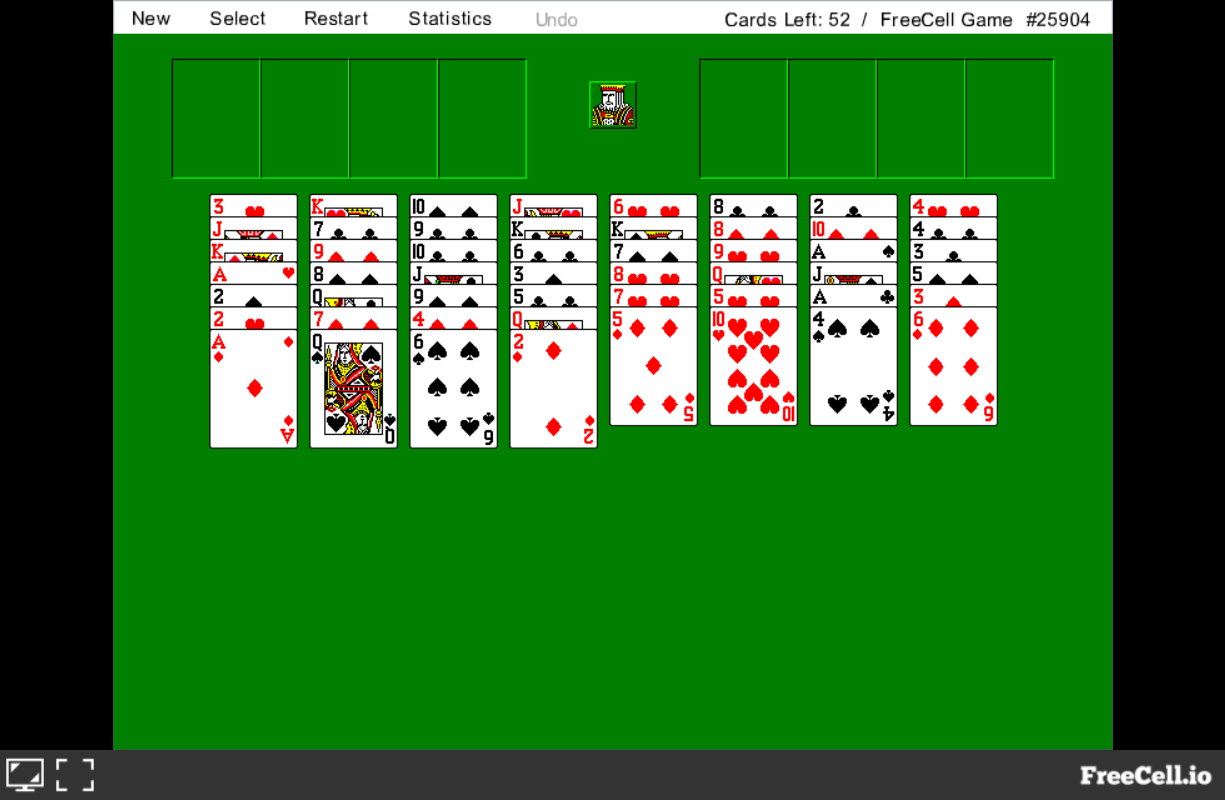 #25904 is the easiest game
What are the hardest FreeCell games?
The hardest FreeCell game is game 31465.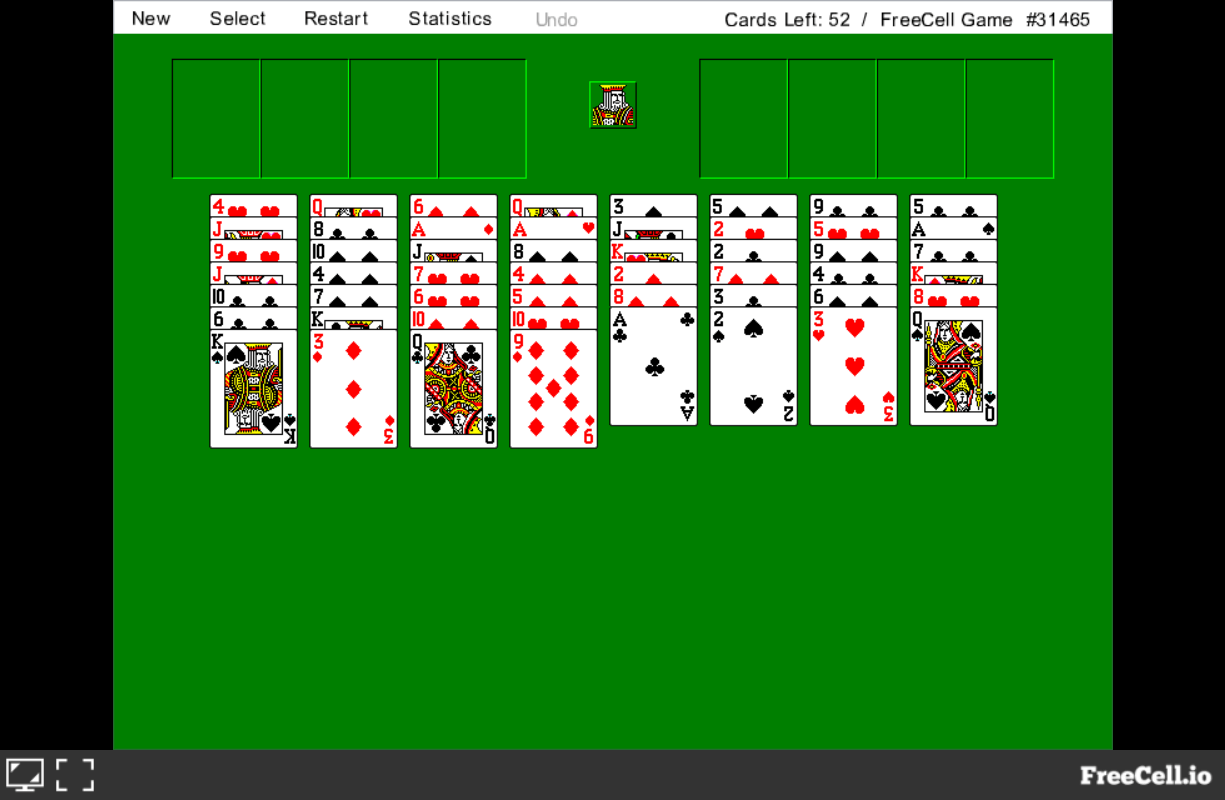 #31465 is the hardest game
What are the games with the longest solutions?
53 moves - game 29596.
52 moves - games 1462, 14212, 30801 and 31465.
51 moves - games 4368, 16124 and 27188.
50 moves - games 5087, 11386, 20861, 27728 and 31678.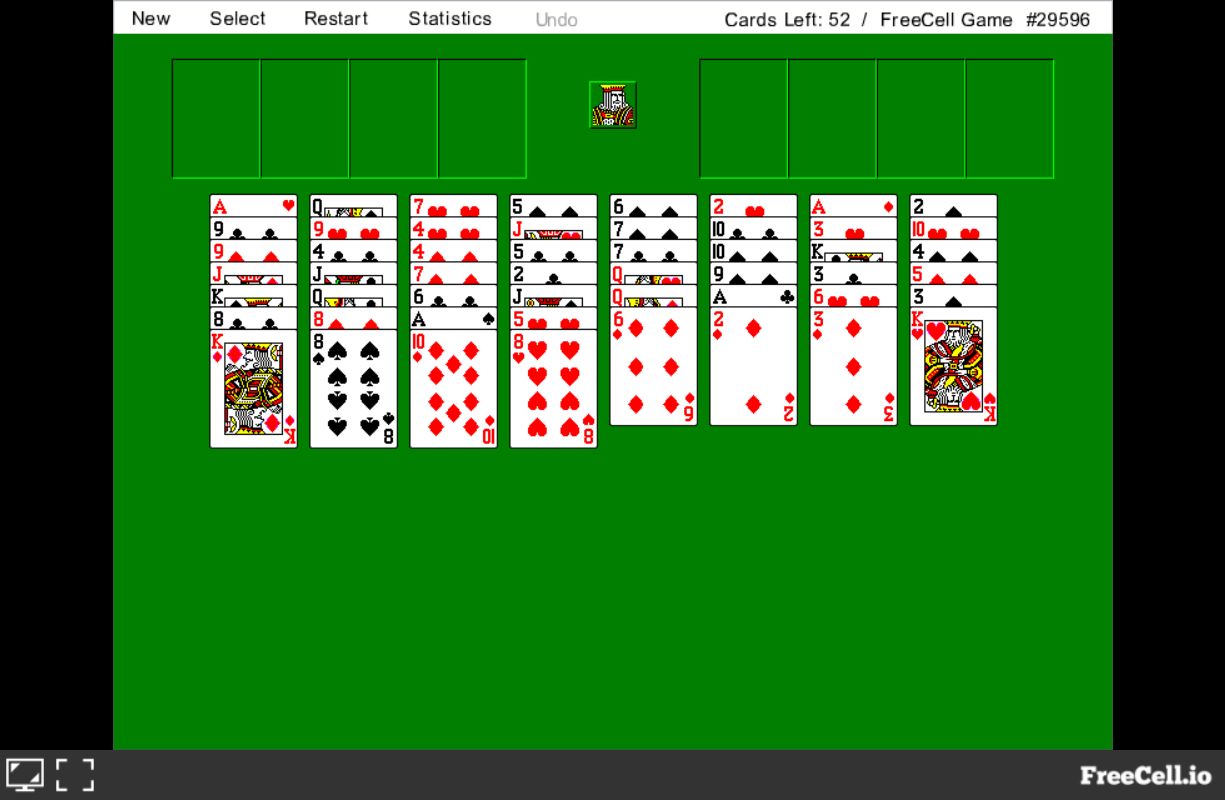 The longest game - 29596
More Games
Solitaire Windows XP - The object of this Solitaire is to use all the cards in the deck to build up the four suit stacks in ascending order, beginning with the aces. To achieve this, you can temporary use the seven row stacks in descending order, alternating between red and black cards, beginning with the kings.
FreeCell XP - Do you remember how you discovered Solitaire games? Most probably you did when you got your first computer. You might even remember how the menu looked like back in the day. FreeCell XP will make you feel like you are back in time. This game looks exactly like the one that was installed on your old computer.
Spider Solitaire Windows XP - The online game Spider Solitaire Windows XP is a similar version of a legendary and quite popular Solitaire game that comes free with Microsoft Windows XP operating systems. Many people spent hours playing this game on their old computers. And now it's available online.