How to Play Tri-Peaks Solitaire
Tri-Peaks is a combination of Golf and Pyramid solitaire games. It's another fast paced game like Golf but a little less mechanical with slightly more thought and vision required in order to release the most productive cards.
Card Layout
The game is played with a single pack of 52 playing cards. The cards are dealt to form a tableau consisting of three overlapping peaks in the arrangement shown below. A single card is then dealt face up from the remaining stock to start a waste pile that is built on during the game.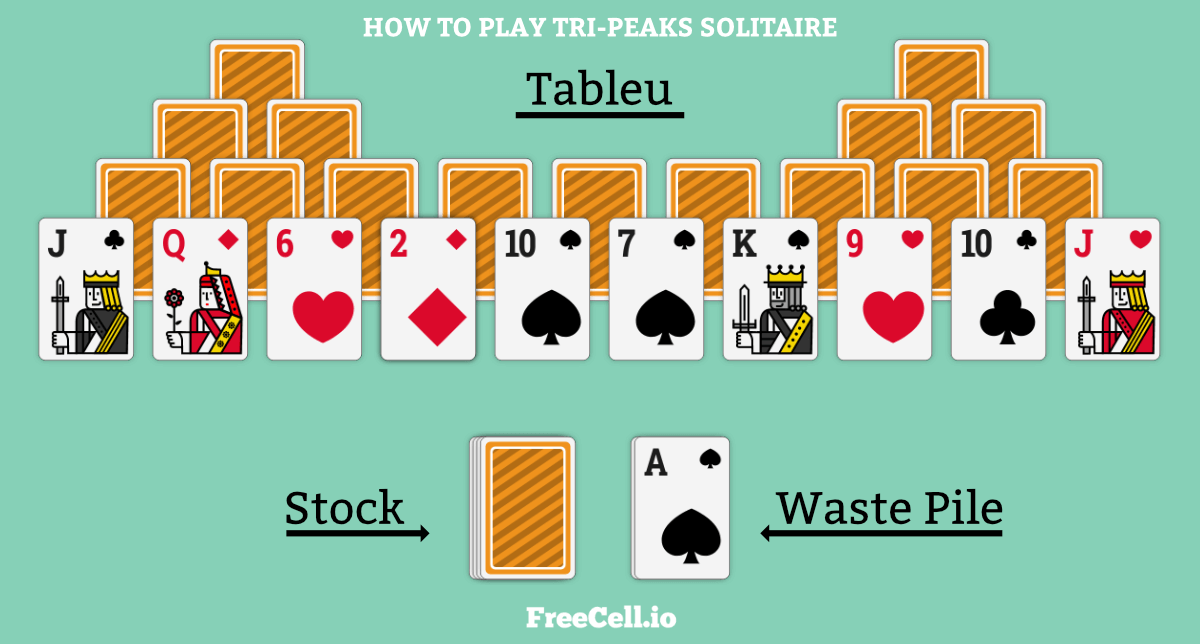 So the game board is made up of:
Three Peaks (Tableu): There are three peaks (pyramids), each one is 4 cards high.
The Stock: The facedown pile on the bottom left.
The Waste: The faceup pile next to the Stock.
Objective
The object of Tri-Peaks is to transfer all the cards from the tableau to the waste pile, uncovering cards further up the peaks, making them available for play. You win the game when you've removed all the cards from the tableau to the waste pile, demolishing the three peaks.
Tri-Peaks Rules
All building is carried out on the single waste pile. Any completely uncovered card in the tableau may be moved to the waste pile if it follows either an ascending or descending sequence regardless of suit. So in the above example, either the 2♦️ or the K♠️ may be built on the A♠️. Sequences may turn the corner with Kings building on Aces and Aces building on Kings. When no more cards can be transferred from the tableau to the waste pile, a card from the stock is dealt to the waste pile and building resumes. When the stock is exhausted, and no more building can occur, then the game is over. You'll receive a bonus every time you completely demolish one of the three peaks and you'll also receive a bonus for each card that remains in the tableau when you win the game, along with another bonus depending on how fast you completed the game. Don't forget, you can double click or right click on a card to send it flying to the waste pile.
Winning
You win the game by moving all cards from all three Peaks to the Waste. The cards left in the Stock when you finish does not matter.
Losing
When you can't move any cards from the Peaks and you have no more cards left in the Stock then you have lost the game. The game will notify you about this, but you are free to use the Undo button to try to figure out some other solution.
Are all TriPeaks solvable?
TriPeaks was invented in 1989 by Robert Hogue. Hogue has performed computer statistical analysis on the original game, which shows over 90% of all the games dealt are completely solvable.